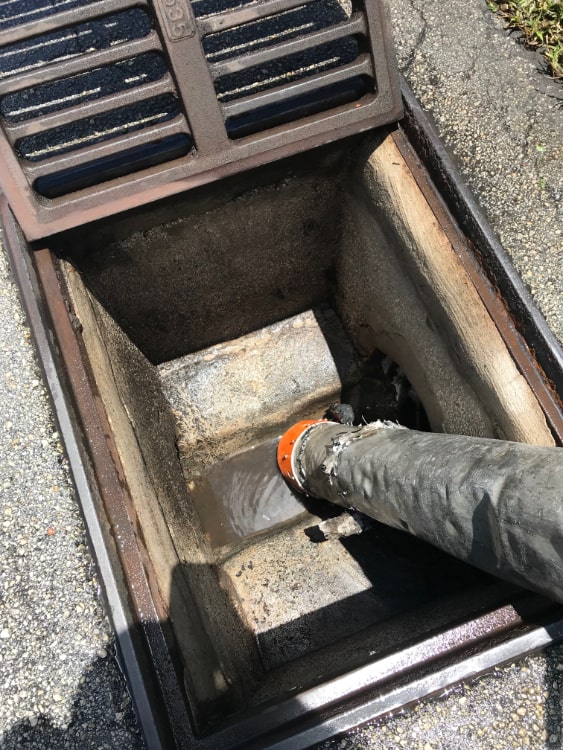 The best North Miami Beach Storm Drain Cleaning Company is here and Rooter Sewer Drain Man is ready to Clean, Flush and Hydro Jet in North Miami Beach. Get your Storm Drain Cleaning done here, the right way.
"Anytime, Anywhere, 24 Hours, We'll be there"
Eddie Boyle, Owner/ Operator, Rooter Sewer Drain Man
Call me I answer the phone, here is my cellular number (954) 914-5151 (24/7/365)
If your Parking Lot Drain, commonly known as either Storm Drain or Catch Basins, is flooded, slow draining, full of leaves, trash or sand and interfering with your home or business, call Rooter Sewer Drain Man for a same day Free quote, priced right, done right.
As a family owned business, Rooter Sewer Drain Man understands how a flooded Storm Drain system can interfere with your daily tasks. We are the best cleaning team in North Miami Beach that focuses on giving you the best customer service, with workers who are professional, courteous, and on time. Before providing you with our estimate, we will take the time to look over every storm drain and give a price reflecting what work needs to get done, we do not "boiler plate" our pricing.
Go with the Best Storm Drain Cleaning team in the North Miami Beach area, not a franchise. Rooter Sewer Drain Man is Family- Owned and Operated. We live here.
WE WILL MEET OR BEAT ANY LEGITIMATE QUOTATION
Pricing Starting at $ 95.00 / minimum of 10 Storm Drains
Emergency Service
Storm Drain, Storm Sewers, Catch Basin Cleaning & Pipe Cleaning, Jetting
French Drain Flushing & Root Removal
Storm Drain & French Drain Repair
Sewer Pipe Hydro Jetting
High Pressure Water Jetting of Pipes and French Drains
Homes, Condos, Apartments, HOA, Restaurants
Residential / Commercial / Industrial
Family Owned – Satisfaction Guaranteed
Custom & Detailed Inspections-Reports-Estimates
Photo & Video of all Work Performed
Honest Opinions & Options
SAME DAY FREE ESTIMATES
SEE OUR EXPERTS AT WORK
HYDRO JETTING EXPERTS
Rooter Sewer Drain Man does not only help customers with storm drain systems in North Miami Beach, we can also assist you with plumbing, sewer, and drain cleaning tasks. Our customers notice the difference from the first phone call, feeling the personal touch that a franchise can't provide. Contact us today for your free quote. We are always available to help, Rooter Sewer Drain Man.
Want the best possible Storm Drain cleaning solutions in the North Miami Beach area? How about a courteous, professional, and punctual work team dedicated to ensuring the best possible customer service available? Try Rooter Sewer Drain Man and give us a shot. From the initial call, hear the difference and then see the service difference. We are experienced and want to work for you. When we look at your Catch Basins, we don't "boiler plate" our estimates. We look at every basin and custom cater a price that reflects actual work needed. We don't oversell.
Storm Drain drainage systems in North Miami Beach help compensate for the heavy amount of rainfall from Florida's climate. These systems keep the roads, parking lots, and other outside public areas from flooding. They also help keep your own home safe from water damage. A small network of structures work together to keep the storm water removal process running fluidly. French drains, catch basins, slab covered trenches, soakage pits, retention boxes, and more make up the drainage system. When any of these systems flood to due to improper maintenance, the whole body suffers. Not taking care of the drainage system can reduce its shelf life and may lead to property flooding and damage.
Rooter Sewer Drain Man understands the importance of providing routine in North Miami Beach storm drain cleaning and maintenance to commercial and residential HOA clients. Our truck fleet cleans and vacuums drains, sewers, catch basins, lift stations, and more to keep drainage running smoothly. Common issues can sneak up on property owners with storm drain systems like clogging from leaves, sand, or trash. You may find symptoms of clogging starting with catch basins and plumbing working slower than usual before turning into flooding. Rooter Sewer Drain Man can come on the same day in North Miami Beach when you find your system's issues. To give you a clear idea of the scope of your situation, we can give you a free quote after taking a thorough inspection of your storm drains.
We offer Storm Drain Cleaning in these South Florida areas:
We offer Clogged Plumbing, Drains and Sewers in these South Florida areas: